Discover the Best Gym Based Strength Training Exercises for YOU
Give Your Body The Challenge Needed To Enhance Definition & Achieve, Lean Sculpted Results
Feel Confident Knowing EXACTLY What Equipment To Use and How To Use It
Have Fun With Greater Variety And The Assurance of Step by Step Workout Plans
Dear Mom,
Have you ever felt intimidated by the free weight area at the local gym?
Do you get lost in the "sea of equipment" unsure of where to start or what to do?
Would you like to put your gym membership to good use, get game changing results and feel completely confident when you workout?
If you answered "YES!" to any one of those questions, or a hundreds more that I could ask you about getting the most out of your gym membership and getting in the best shape ever, then I have something truly exciting to share with you…
****I understand that by clicking the "Order Now" button above I am agreeing to
purchaseFYM In The GYM Online Video Workout Program. I understand that this is an
online, downloadable product. Nothing physical will be shipped.
I'm Holly Rigsby, and like you, I'm a busy mom that wants to workout, get great results, and feel totally confident – in and out of the gym…
For the past 8 years I've been helping moms get their pre-baby bodies back (and better) with my at-home workout DVDs and digital workout video programs.  You may even have some of them!
But, before I did that, I was actually a fitness coach in a small-town gym that my husband and his business partner owned.  It was there that I started to develop the foundation for what is now the most popular fat loss system for moms online – Fit Yummy Mummy.
Take a look at some of the dedicated women I had the pleasure of working with at that gym and beyond.  Aren't they amazing!?!
Now It's YOUR TURN To Get The Best Possible Workouts In Your Local Gym & Take Your Strength & Body Sculpting Results To The Next Level…
Recently, I've had a lot of moms who have been through the foundational FYM fat loss workout programs ask me to create a workout plan that specifically taught them how to workout in their local gyms.  They wanted to do more "advanced" training and use more equipment that they didn't have access to at home.
While highly motivated to begin, the wide variety of equipment caused many to feel confused and even intimidated. Plus access to personal trainers was not the perk it appeared to be. Many are either under-qualified or unfriendly for let's face it, the 20 something year old guy just doesn't get what a mom needs and besides, it's hard to get most of them to answer a question without a hardcore sales pitch for long-term personal training contract.
I made the decision to "go back to my roots" and over the past several months not only put myself through a more intense, gym based workout regimen, but at the same time put together the most complete video program created, designed for specifically for moms who want to increase the challenge of their workouts and feel confident about how to workout in a gym, hence the name FYM 'Fit Yummy Mummy' In The Gym!
FYM In The Gym Focuses On Exercises That Will Make You Stronger, Leaner & Sexier Than Ever!
Discover the secrets to boosting your metabolism and sculpting your body with barbells, dumbbells, cable machines, and suspension trainers.  Get the easy-to-follow video instructions you need to feel confident working out with all the fun body-shaping equipment your gym provides…
Here's What You Get With FYM In The GYM
Online Workout Video Program
FYM In The Gym is an instantly downloadable workout program, jam-packed with everything you need to get the best workout in the gym.
You will receive nearly 90 exercise videos. In each video I walk you through how to properly perform each exercise safely and effectively, with variations so you know how to modify as needed. To make it easy to navigate and implement, I have organized these videos into mini tutorials as follows – From Getting Started to Exercises for Each Body Part to Cool Down & Stretching. This way you can choose to view the videos from your home computer prior to heading out to the gym as you plan your workout or you can quickly access a tutorial clip on your smart phone if you need a quick reminder while at the gym.
Video 1:  Readiness Assessment
Start Here: Before jumping into the more advanced lifts, I want to be sure your body is prepped and ready to go. Here you will learn how to perform a self-assessment to determine if the more advanced exercises are right for you.  And, if they're not, I've got a "get-ready" plan laid out for you in the Success Guide!
Video 2:  Equipment & Set-up
Review this section to get familiar with the equipment you'll be using.  I also cover planning out your workout time, setting up your equipment, safe & smart lifting, and even things like the best shoes to wear, music to listen to, and how to track your workouts with training logs.
Video 3:  Warm-up Exercises – Start Strong
Before you begin your body must be prepared with an effective warm-up.  In this section I cover the importance of a proper warm-up, how it lays the foundation for a great workout session and then I take you through my favorite pre-gym workout warm-up moves.
Video 4:  Hip Dominant Exercises – Build a Beautiful Backside
Hip dominant exercises are the most important exercises for proper body function, athleticism, not to mention, building a beautiful backside. These are some of my favorite exercises!  In fact, if you were really short on time and could only do one exercise, I'd recommend you pick your favorite from this video section.
Video 5:  Knee Dominant Exercises – Get Strong, Sexy Legs
Knee dominant exercises build strong & sexy legs, burn a ton of calories, and are critical for longevity – think healthy ankles, knees, & hips.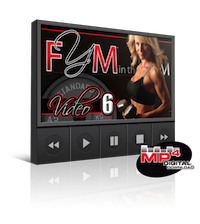 Video 6:  Upper Body Push Exercises – Sultry Strength…
These are generally the weakest links for moms – push-ups, bench presses, shoulder presses, etc.  However, these are the exercises we need to develop upper body strength, great shoulders & arms, and even a rock solid core!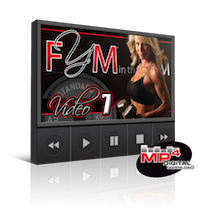 Video 7:  Upper Body Pulling Exercises – Super-Fun & Fabulous Results…What a combo!
Now it's time to separate the women from the girls…  Upper body pulling exercises are where we can really "get after it!"  While as women we love the lower body exercises, upper body tends to be a different story…until we discover the fun of these upper body pulling exercises.  Plus, the results speak for themselves – amazing arms, sculpted shoulders and backs (think backless dress), and a V-taper that makes your waste look tiny! 
Video 8:  Ultimate Core Exercises – Tighten Your Tummy!
Every Mom I meet wants a tighter tummy and a smaller waistline.  Well, these are the exercises you need to do in the gym tighten and sculpt core.  I've included everything from the foundational plank to some really fun belly blasters like hanging leg raises, Pallof Presses, cable chops, body saws, and more…
Video 9:  Total Body Exercises – Total Transformation in One Exercise…
One of the great things about having access to gym equipment is the ability to do more intense total body exercises that work everything from head-to-toe and ignite your fat burning metabolism for DAYS!  Plus, while these exercises are an awesome challenge, they're also an absolute blast to perform – I promise you'll LOVE them!!
Video 10:  Cool Down Exercises – Finish Strong
A proper cool-down will start the muscle recovery process, speed up results, and just have you feeling fabulous the rest of the day.  Too often, busy moms skip this important step in the workout.  In this section, I cover the importance of a proper cool-down and give you my favorite routine to do at the end of my gym based workouts.
Video 11:  12 Weeks of Progressively Challenging Workout Plans
When you have a plan then you can get an effective workout in, eliminate time wasting and most of all ensure that you're going to get the results you want. In your downloadable Success Guide I have mapped out a full 12 weeks of progressively challenging workouts for you to follow with suggestions on how to set personal records with each to ensure workouts are intense and your body is challenged and changing. This video tutorial takes you through a quick preview of how each 4-week workout will flow. This way all you have to do is practice the moves for the workout, print out your workout log and review a 5 minute video clip to get prepped and motivated to take on your workout at the gym.
Video 12: BONUS 15-Minute Express Circuit Workouts
Sometimes you just need to get in and out of the gym… These 2 bonus workouts  – 1 uses a barbell, 1 uses dumbbells – will give you a total body workout that fire up your fat burners, build lean muscle, and get you strong…FAST!  Use them when you're in a pinch for time, but still want to hit the gym for a quick workout. These quick video tutorials demonstrate the flow of a 15-minute gym circuit so you get a feel for what you need to do once you are at the gym.
Your FYM In The GYM Success Guide
This downloadable handbook is filled with details on how to get started with your Readiness Assessment, outlines how to choose the right weight, how to set personal records, how to schedule your Workouts for maximum results,  includes a step-by-step program design guide in addition to 12 Weeks of Progressively Challenging Workouts with Workout Logs. You will also access guidelines for Cardio Interval Training, Fat Burning Meal Plan Strategies, And More! ($29.95)
As you can see…with FYM In The GYM you'll have everything you need to give you enough workout options to cover you for a good 12 months or more!
There Are A Million Ways to Get Skinny
Hard Work is the Only Way to Get Strong
"Strong is the New Skinny"
You've likely seen the t-shirts and pictures on Facebook and other social media sites… Strong IS the new Skinny.  The days of women dancing around with 3-5 lbs dumbbells and spending endless, hours on elliptical machines are over!
Join me in the gym today…
Today Only $129.95

****I understand that by clicking the "Order Now" button above I am agreeing to
purchase FYM In The GYM Online Video Workout Program. I understand that this is an
online, downloadable product. Nothing physical will be shipped
P.S. – I truly enjoyed putting FYM In The Gym together for YOU.  I just know you're going to love it, and I can't wait to hear back from you about your success story!
P.P.S. – You CAN feel confident, have fun, and get amazing results by working out in your local gym.  Let me help you get the results you want AND deserve without having to pay "through the roof" prices for a personal trainer.
Today Only $129.95
****I understand that by clicking the "Order Now" button above I am agreeing to
purchaseFYM In The GYM Online Video Workout Program. I understand that this is an
online, downloadable product. Nothing physical will be shipped.